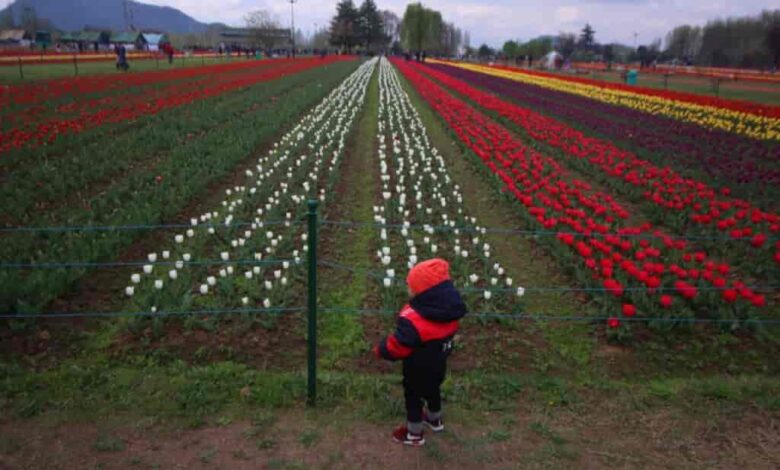 Sonmarg At a time when every park at tourist resort Sonmarg is in dilapidated condition, the government has decided to set up a Tulip Garden on the patten of Kashmir capital Srinagar to attract more and more tourists.
The proposed Tulip Garden is likely to come at 'Kohsheen Park' and will be managed by Jammu and Kashmir Floriculture Department.
"A hundred kanals of land have been identified in Sonamarg for setting up a 'Tulip Garden'.
An official said that the Tulip Garden in Srinagar has been a big attraction for the tourists who visit Valley during the Spring Season. "Since Tulips are unique to Jammu and Kashmir and have been very helpful in increasing the footfall of the tourists visiting the Valley, it would be expedient to replicate the tulip at other locations including Sonmarg which will not only add attraction at these tourist places but would also prolong the tulip season, thus give better timing flexibility to tourist to witness the tulip bloom."
Also Read: Soldier dies while patrolling in Sonmarg
Official sources said that the Chief Secretary has issued directions for popularizing and expanding the tulips gardens across all prominent locations of Jammu and Kashmir, particularly at Gulmarg, Pahalgam, Sonamarg, Baderwah, Poonch, and Sanasar.
"Since various kinds of tulips bloom under varied temperatures and environments, therefore propagating and promoting the tulip gardens at these places would enable the extension of tulip season by 10 to 20 days and will greatly help in increasing the tourist footfall during the tulip season."
Though locals especially hoteliers are upbeat and desperately wish to see a Tulip Garden blooming at Sonmarg, but, many have apprehensions that like other parks in Sonmarg, this proposed Tulip Garden will meet the same fate.
Also Read: Authorities impose week-end restrictions in Sonmarg after influx of tourists
Sonmarg Development Authority, which was set up in 2007, as per locals failed to maintain the pristine glory of the multiple parks of Sonmarg. "Hefty amounts are being spent in the name of maintenance and repairing of these parks, but nothing changes on the ground. A tourist who pays for the ticket often expresses displeasure as he or she finds nothing for amusement," a shopkeeper told news agency Kashmir News Trust.
An elderly hotelier said that he was expecting a big change when Revenue Department handed over the control of this tourist resort to Sonmarg Development Authority in 2007, but nothing changed.
"This resort was for camping tourism. Visitors earlier were allowed to stay in the tents, but slowly it turned into a concrete jungle. New hotels came up but nothing was done to beautify the landscape here," he said and expected that the proposed Tulip Garden will be maintained in an effective way.
A couple of hoteliers appealed to SDA to take care of the shabby parks of Sonmarg without wasting any time. (KNT)