Kashmir
Tragedy strikes Doda family, 6 members injured, one dead in Kashmir highway accident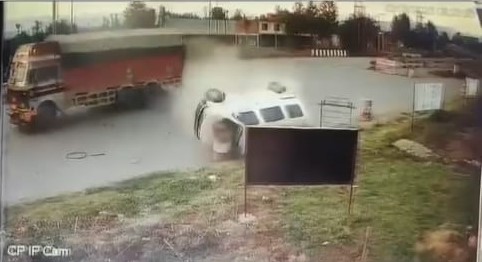 KASHMIR NEWS TRUST
Tragedy struck a Doda family, whose seven members were critically injured among which one died in the hospital after a speeding truck hit their vehicle when the driver was trying to cross the highway near Levidora Qazigund area of South Kashmir's Kulgam district on Friday.
Police sources told the news agency Kashmir News Trust that 7 members of the Doda family including the driver were on their way to Srinagar from Doda and were travelling in an Eco vehicle (JK06B 0901) when a truck hit the left extreme portion of the vehicle while the driver was taking a turn.
They said that all seven members were injured in the accident and were shifted to hospital where one of the family members who was driving the ill-fated private vehicle succumbed to his injuries. The rest of the critically injured are being treated at Government Medical College Anantnag.
The deceased has been identified as Maroof Ahmed Bhat son of Mumtaz Ahmed Bhat. Hospital sources identified the injured as Muhammad Nawaz Bhat, his wife Mubeena, his two daughters Mehvish and Ayesha, his grandfather Ghulam Qadir Bhat, and brother Mumtaz Ahmed Bhat.
Shortly after the accident, police seized the truck, arrested its driver, and registered an FIR vide number 206 in this regard under relevant sections of law. [KNT]
*UPDATED: Later in the evening 3 more family members succumbed at SKIMS Soura taking the death toll to 4.