Kashmir
'It's hell to drive in Srinagar city' – 'Kashmir News Trust #KNT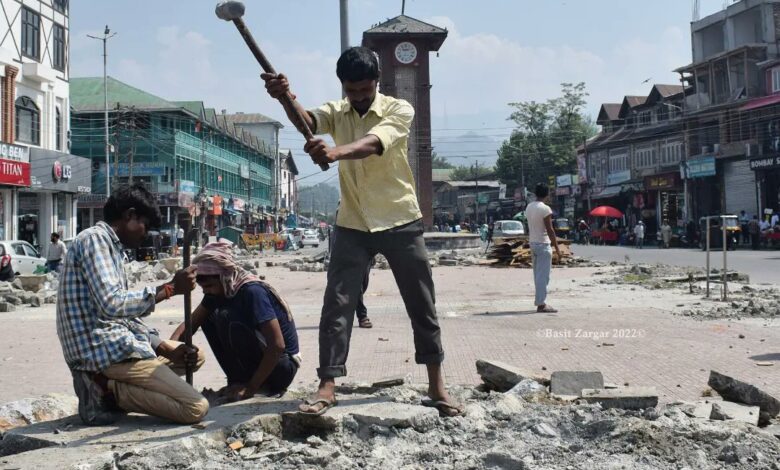 'Kashmir News Trust #KNT
Srinagar has become a ghost city, where commuters are finding it hard to drive owing to the dilapidated and damaged roads. Both the lanes rather highways of Srinagar city, viz, Moulana Azad Road and Regal Lane have been disfigured in the name of the smart city project.
"It takes over an hour to reach Lal Chowk from TRC, even if you are driving your own vehicle. And if you are traveling in public transport then only God can save you," a commuter Ishfaq Ahmed told the news agency Kashmir News Trust.
"It's not about the time, you know the damage caused to our vehicles. You have to drive in first gear right from Dalgate to City Centre and you might be knowing well about the consumption of fuel, if you are a good driver," another commuter said.
The commuters said they are not against the development but it should not be at the cost of peoples sufferings. "Both the lanes of the city centre are choked and it is really difficult to drive. Chocking both the lanes (Moulana Azad Road & Regal Lane) at the same time might be an idea of someone who is ignorant of Srinagar city," said an angry commuter.
The government is mulling completing all the developmental projects ahead of G-20 meetings that are likely to going to be held in Summer Capital.
So far such meetings have already taken place in different states of India and even in one of the meetings, Srinagar Mayor Junaid Azam Mattuu participated. But G-20 meeting is something different for Kashmir as the government is leaving no stone unturned in giving it hype and publicity.
The way construction works are being carried out in Srinagar only popularizes the line, 'go to hell, we mean to show off." [KNT]