Kashmir News Trust [KNT]
Kashmir Valley's one of the reputed Coaching Institutes – KIE "Kashmir Institute of Excellence" has made a groundbreaking announcement wherein Complete NEET Coaching shall be offered to the students just at the cost of Rupees 500 only in the Online Mode.
In this regard, a press conference was held at KIE Tower Chinar Colony, Parraypora which is the head office of the KIE.
Press Conference was addressed by Mr. Kar Khursheed Aalam, Managing Director KIE while Mr. G. N War, Chairman Coaching Centre Association.  and Javid Ahmed Dar, Director KIE were present.
Speaking to the media, at the very outset Mr. Kar Khursheed Aalam explained the basic driving force towards the launch of such a ground-breaking step which is historic in the field of education and competitive coaching as far as J&K is concerned.
There is a huge number of students who are competent enough to compete in any National Level Exam but lack of exposure and competitive coaching, owing to their weaker economic background, do not make it to any competitive examination. So, in order to cater their needs and to ensure that there is a competitive coaching available for all. This particular course was initiated and is going to be completely in the interest of the education sector of J&K said Mr. Kar Khursheed Aalam.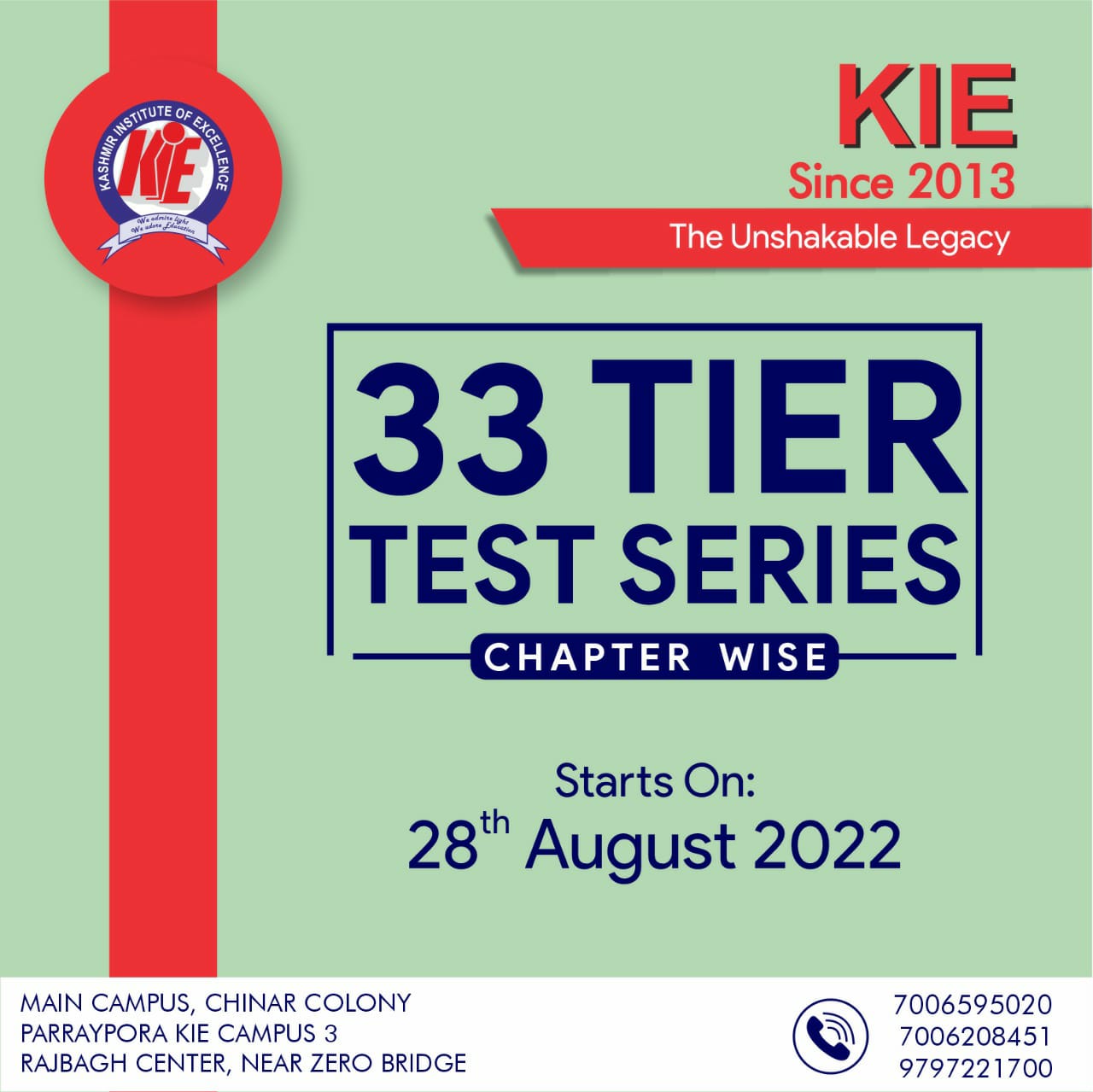 He also mentioned that KIE is committed to ensure that any student of J&K should not be deprived of competitive education, if he or she is willing to have it and do well for themselves and for society at large.
Mr. G. N War Chairman Coaching Center Association was also present at the Press Conference, he overwhelmingly welcomed the step and said that this is the historic and ground breaking step in the field of education. He further stressed upon the fact that free education was long pending dream in the UT of J&K in the field of  coaching. He also congratulated the whole team of KIE for this historic move that is going to reshape and redefined the future of the students in the UT of J&K.
Mr. G. N. War said the Government should also issue a statement appreciation for the KIE as it may prove to be defining moment in the education sector of J&K.
"For such kind of competitive coaching is lowest in whole of the India, therefore the people of J&K should come out openly and appreciate the whole team of KIE, so that they offer more in this particular field. Appreciation is required to boost their confidence and moral with regard to such a noble cause", said the G. N. War Chairman Coaching Center Association.

Javid Ahmed Dar, Director KIE said that it was a long pending dream which has Eventually, come true.
KIE has recently launched an APP known as KIE e-learning App which is going to be the platform where in such bold initiatives can be executed. KIE e-learning App can be downloaded from the play store for the android users and app store for the IPhone users, various helpful video lectures and the free content will also be available on the App for all the students which can be accessed without paying even a single penny. We are in the process to generate more and more content that can be delivered free of any cost, said Mr. Kar. Khursheed Aalam, Managing Director KIE.
He further added that Candidates can register themselves by logging into the official web portal of KIE www.kiesgr.org. Registration link shall remain open upto the 29th Aug 2022 and online classes shall commence from 1st  Sep 2022.
Candidates can also download KIE e-Learning App from the Play Store and register themselves instantly.
While thanking all the Media persons present at the press conference the team of KIE requested the general public for their blessings and moral support in order to make such kind of initiatives a success and also resolve to offer more in the field of education. KIE said that they owe the responsibility towards all students and parents of J&K. (KNT)