Kashmir
In Pictures: Property worth crores destroyed in Anantnag mid-night blaze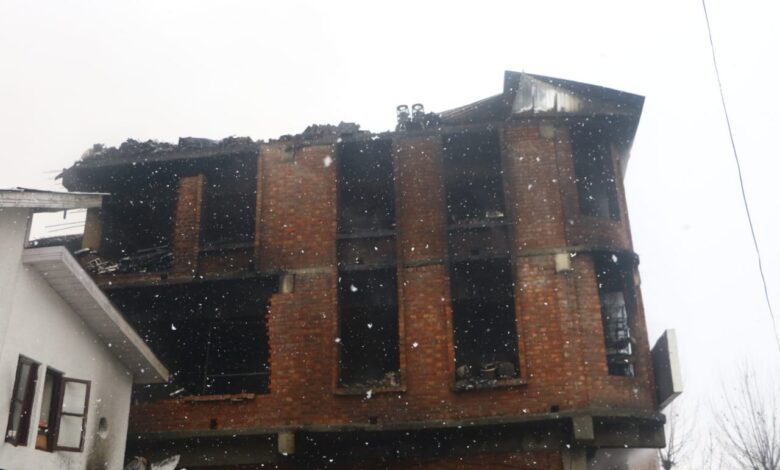 Anantnag: Property worth crores were destroyed in a devastating mid-night blaze in South Kashmir's Anantnag district.
Local sources said that three commercial buildings occupied by four proprietors dealing in crockery business were completely damaged in the fire incident.
They told news agency Kashmir News Trust that flames started emanating from a commercial building on late Friday night in Naibasti area of the district when it was snowing and most of the people were indoors.
As people noticed the flames, they informed Fire and Emergency Services Department and tried hard to douse the fire, however, fire spread quickly engulfing two other commercial buildings.
These three commercial buildings were occupied by four proprietors namely Abdul Majeed Pahalwan, Aqib Majeed Pahalwan, Muhammad Iqbal Pahalwan and Muhammad Asif Pahalwan.
The commercial buildings were having showrooms, shops and godowns containing crockery, aluminum and plastic items worth crores of rupees.
Locals said that almost everything owned by the four proprietors was gutted in the fire.
They said that many vehicles had been parked by the drivers in the area who successfully managed to shift them to safer locations, however, a Tata-Mobile bearing registration number (JK03H-1628) suffered damages in the fire incident.
Fire-fighters put hard efforts to douse the fire. "Snowfall made it difficult to extinguish the fire in time," said a local Muhammad Haneef.
Some locals alleged that it took over an hour to reach fire tenders on spot.
A police official said that prima facie electric short circuit seems to the cause of the fire, but a case has been registered to investigate the matter. He said that 3 commercial buildings containing electric, plastic and aluminum goods were completely destroyed in the incident. (KNT)