Kashmir
Not a single house will be demolished for Doodhganga Restoration: Mayor Srinagar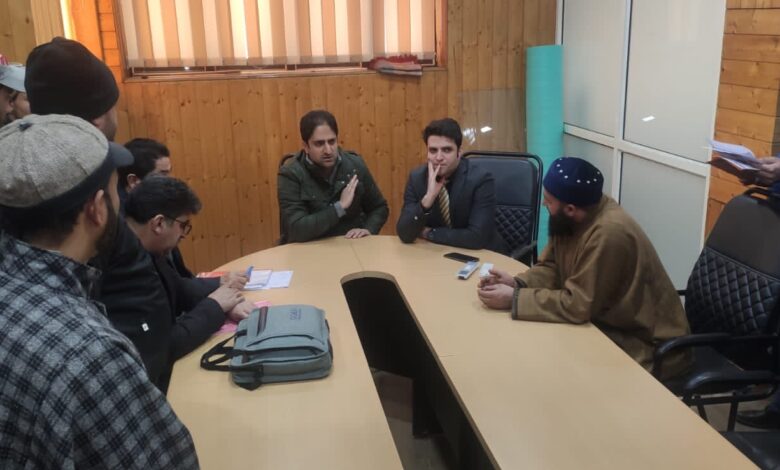 Kashmir News Trust #KNT
Mayor Srinagar, Junaid Azim Mattu held a detailed meeting with the residents and community elders of various localities and colonies on the stretch of Aloochi Bagh to Chattabal Doodh Ganga Rejuvenation and Restoration Project and assured the residents that no colonies will be displaced, nor any houses demolished – including the downtrodden colonies and slum settlements on this stretch.
The meeting was also attended by Commissioner SMC and CEO Srinagar Smart City, Athar Aamir Khan, SE City Drainage in addition to senior officials and engineers.
The Mayor assured the local residents that the Doodhganga Canal Restoration and Rejuvenation Project was a vital flood mitigation project that would first and foremost benefit the residents and colonies in Aloochi Bagh, Haft Chinar, Batamaloo and Chattabal.
The Mayor, while condemning traditional mischief mongers and agent provocateurs who were provoking the people and spreading misinformation, assured the residents that not a single residential colony, including slum structures, would be disturbed or affected by this project.
"The Public Notice that has been issued concerns encumbrances, obstacles and physical encroachments within and on top of the canal and does not pertain to residential colonies, houses or structures. Not a single house will be demolished by this project. It is my assurance to the residents that this won't be allowed", the Mayor said while interacting with the residents
He said contrary to what is being wrongly peddled by vested interests, this restoration project will resolve the longstanding issue of localised urban flooding and water-logging in these areas — benefiting the locals of these areas.
The Mayor also made it very clear that attempts to connect SMC with the ongoing land eviction and retrieval of State land drive were misleading and a larger deliberate ploy to spread misinformation and canards.
"SMC is not involved in the ongoing drive in any way, shape or form – neither at the policy level nor at the execution level. As the Mayor of Srinagar, I have formally urged the administration to put in place a humane and sympathetic policy of regularisation, especially for the poor and downtrodden sections of our society – keeping in view the fragile and sensitive economy of J&K", the Mayor added.
The Mayor said he has passed strict directions to ensure that no scope is left for misinterpretation of steps being taken for public and community welfare, such as the Doodhganga Rejuvenation and Restoration Project.