World
Earthquake shatters Turkey, Syria, Over 2300 dead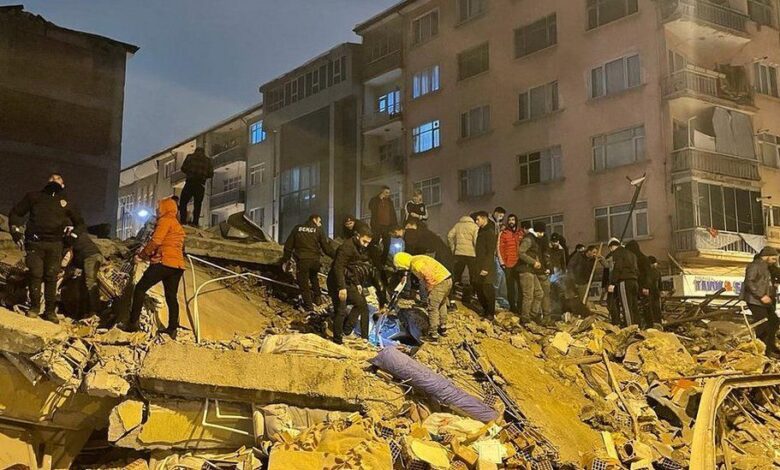 KNT WEB DESK
A 7.8 magnitude earthquake shook Turkey followed by another strong quake which was felt in several provinces in the region, knocking down a number of buildings, reports said.
Media reports said that at least 2300 people have died and toll may further increase.
The US Geological Survey said quake was centred about 33 kilometres (20 miles) from Gaziantep about 26 kilometres (16 miles) from the town of Nurdagi. It was centred 18 kilometres (11 miles) deep, according to the US Geological Survey.
Turkey's Disaster and Emergency Management agency was centred in the town of Pazarcik, in Kahramanmaras province.
Syrian state television reported that a building near Latakia, on the west coast of Syria, had collapsed.
Pro-government media said several buildings had partially collapsed in Hama, central Syria, with civil defence and firefighters working to pull survivors out of the rubble.
The tremors were felt in Lebanon, Syria and Cyprus, AFP reported.
Television images showed shocked people standing in the snow in their pyjamas, watching rescuers dig through the debris of damaged homes.
Death toll in Turkey earthquake expected to rise, officials say
Locals officials said five people died in the province of Osmaniye and 10 more in Sanliurfa, which sits near Turkey's border with Syria.
There were at least 6 aftershocks and he urged people not to enter damaged buildings due to the risks, Interior Minister Suleyman Soylu said.
Turkish President Recep Tayyip Erdogan said on Twitter that "search and rescue teams were immediately dispatched" to the areas hit by the quake.
"We hope that we will get through this disaster together as soon as possible and with the least damage," he wrote.
At least 10 people were killed in Turkey after an earthquake shook the country's south and also northern Syria, two local Turkish officials said.
The German Research Centre for Geosciences (GFZ) said the quake struck at a depth of 10 km (6 miles) near the southern Turkish city of Kahramanmaras, while the EMSC monitoring service said the chance of a tsunami risk was being evaluated.
The quake jolted residents in Lebanon from beds, shaking buildings for about 40 seconds. Many residents of Beirut left their homes and took to the streets or drove in their cars away from buildings.
Turkey's Disaster and Emergency Management agency, AFAD, said the quake measured 7.4 and was centered in the town of Pazarcik, in Kahramanmaras province.
In northwest Syria, the opposition's Syrian Civil Defense described the situation in the rebel-held region as "disastrous" adding that entire buildings have collapsed and people are trapped under the rubble.
Syria reports multiple buildings collapsed; Turkey reports 5 deaths in initial tally, Associated Press reported.
#Video………Turkey Earthquake…..Over 200 buildings collapsed, 23 bodies recovered so for pic.twitter.com/u0xDwe63CZ

— Kashmir News Trust༝ (@knewstrust) February 6, 2023