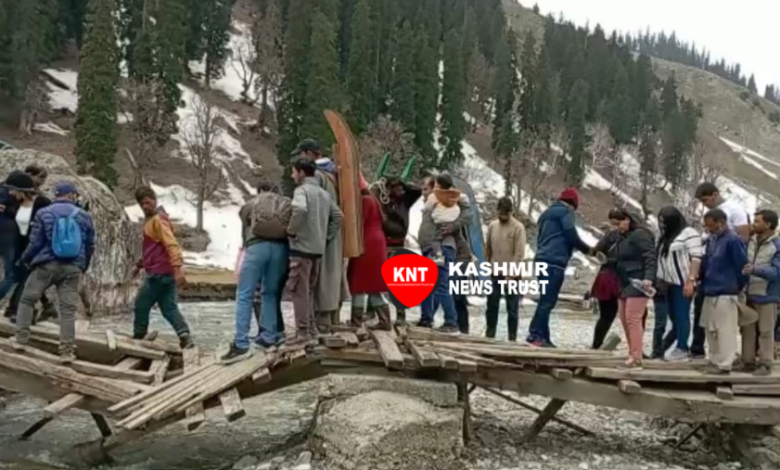 Sonamarg: Tourists who throng Thajiwas area of health resort Sonmarg have been facing a lot of inconvenience due to dilapidated and damaged footbridges.
Tourists who visit Sonmarg show keenness to visit Thajiwas Glacier but once they visit the spot, they lament the poor condition of the foot bridges that pose a serious risk to them.
Mahesh Kumar, a tourist from Mumbai who sent a photograph of one of the dilapidated footbridges to the news agency Kashmir News Trust said that it is really risky to walk over these bridges.
"I crossed over 5 pedestrian bridges and all are in a dilapidated state. These bridges should be repaired without any delay as Thajiwas is the most visited and preferred place in Sonamarg," he said.
Last year, a tourist lady was injured after she had a fall from a damaged foot-bridge at Thajivas.
An official from Sonmarg Development Authority said that Thajiwas area is a wildlife zone, looked after by the Wildlife Department.
A Wildlife Department official admitted that all the five foot-bridges are damaged. He said that tenders have already been floated and hopefully this year the repairing work will commence. (KNT)
You May Like To Watch: